Welcome to Our Journey
Our Journey is a new platform to help you map and reflect on your study experiences
To use Our Journey, register or sign in to create a card that describes a study experience and how it made you feel. That's all there is to it. You can create as many cards as you want.
Over time, these cards will help you to recall all the challenges you faced in achieving your goals, like a diary, but without the need to write — unless you want to.
Our short video demonstrates a new student keeping a record of their challenges and achievements using Our Journey.
Duration 3m 46s.
If you are a student
You can use Our Journey to capture your study experiences and log them as part of your learning journey. You can keep this to yourself, print or save it, or you can share your ongoing journey with a tutor, study advisor or mentor.
To learn more about creating your journey please read our guide for students.

If you work with students
Our Journey can help your students reflect on their challenges and achievements, supporting their wellbeing. It can also support mentoring and dialogue around the student's development, and can give you valuable insights into the experiences of your students.
If you are interested in using Our Journey with your students, or would like to know more, please read about supporting students with Our Journey.
A step-by-step guide
The board
The Our Journey screen comprises of two parts, a panel for you to input your events and emotions, and cards which record these events.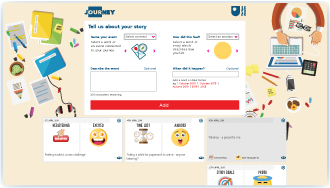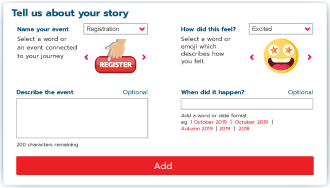 The panel
To create a card, fill in the panel at the top of the page letting us know what event you are referring to - for example Registration - then indicate roughly how it made you feel by choosing an emoji. If you want you can also write us a note and let us know when the event happened, and click 'Post'. It's your journey so you can decide.
Cards
Your card will appear beneath the panel. Over time, these cards will build up a picture of how you felt as you studied and you can use these cards to reflect on the highs and lows of your study experience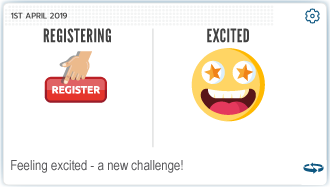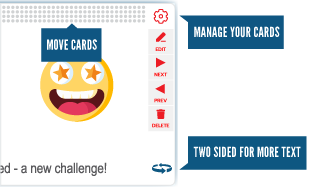 Card options
We are adding new features to Our Journey all the time. Explore the 'Options' button to see more. For example, if you change your mind about an event or how you felt, change it by using the 'Edit' option.
Handy tip: You can reposition any card by dragging it to a new slot using the bar at the top of the card as grab handles.

Free download of Our Journey for the classroom
Our Journey was originally developed as a poster and set of cards for classroom exercises. This version is ideal to use in face-to-face conversations, workshops or training events. They are free to use and enjoy.
The Our Journey poster and printable cards by The Open University is licensed under a Creative Commons Attribution-NonCommercial-ShareAlike 4.0 international license.
Our sponsors




Our Journey has been informed by research conducted to understand the challenges faced by disabled students at the Open University. The project was initially funded by the
Higher Education Innovation Fund
(HEIF). More recently, funding has come from
JISC
and the Learning and Teaching Innovation Scholarship (LATIS) centre at The Open University.